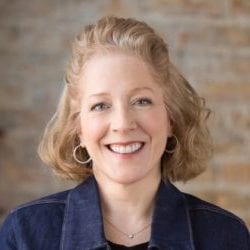 Denise Rosenfeld
Denise was introduced to Pilates while studying Dance at Columbia College Chicago. She graduated with a BA in Dance Teaching and earned a Masters Degree in Dance Movement Therapy. She has more than 25 years of experience teaching many forms of fitness. She is currently teaching Pilates, Zumba, Aqua Zumba, and Yoga. She is certified in group fitness and personal training. She has worked with clients of all ages, from 4 to 103, and believes in the movement potential of every client.
Denise studied at Pilates Chicago for Mat Training in 2005 and then Comprehensive Training in 2009. While practicing as a Dance Movement Therapist in a hospital setting she witnessed the healing nature of Pilates to re-pattern and correct maladaptive movement patterns in her own body and in the bodies of her clients.
Then, after a ski accident, which left her unable move her left knee for two months, she utilized Pilates exercises every day to help support her rehabilitation process. She was able to move beyond the expectations of her doctor for a full recovery.
<< Back to the Faculty Page